Gold Dust and Pebbles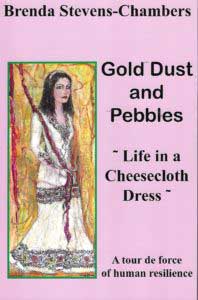 Brenda's new novel may be best described as Steinbeck's
"Grapes of Wrath" meets the 1960's counter culture.
REVIEWS
Dear Brenda,
I think all students of psychology, sociology and contemporary anthropology should be made aware of your new book. I admired the honesty within the story and the characters, well done!
James A Lerk AM, Author, Historian
"You have managed to incorporate mystery, fashion, weddings, births, food, hippies, drugs, sex and young love.  Patti was a real pain.  I could almost smell the rosewater and camphor perfume clinging to the old aunts.
Having lived through the times you covered in your story, and being married at 19, many memories were evoked.
Castleton was a great pseudonym  for Bendigo, being the name given to Bendigo before Sandhurst.
Thanks for a good read. I hope sales have been good."
Yvonne K.
Brenda's novel, 'Gold Dust and Pebbles – Life in a Cheesecloth Dress' is loosely based on her life and presents a colourful ensemble of memorable characters. Set in a small rural Australian town between the years 1950 -1971, the story takes place in a period of immense social change. A Baby Boomer, Brenda is well placed to demonstrate how individuals, families and communities faced this change whether to their benefit or detriment.
Readers will relish a trip down memory lane with the advent of television, greater mobility, pop music with the likes of singers Sandy Shaw, Bob Dylan and Australia's own Seekers, Olivia Newton John and the Bee Gees. The 'Go Go' and the 'Twist' prevailed in the dance halls and Elvis Presley prevailed in the theatres. Sex symbols like Sean Connery and Jane Fonda were everywhere. Teenage girls longed to read about young women pursuing lives of economic, social and sexual freedom as presented in 'Peyton Place' and 'The Country Girls', both novels being banned in Australia.
As a Baby Boomer Brenda was blessed with free tertiary education and inexpensive international travel. She taught English and history for several years and during school holidays travelled the world with her airline IT expert husband. She has ridden a camel on Mount Sinai, been stalked by a lion in Africa, climbed the Great Wall of China, rode a bike through India, and prowled the battlefields of France. Many of these experiences have found their way into her books, newspapers, short stories, and onto radio.
Brenda Stevens-Chambers is the author of nine books written since 1992. All are found on the internet under her name. Her writing is well regarded for its insightfulness into the lives of Australian women and families.
'Gold Dust and Pebbles – Life in a Cheesecloth Dress' – a tour de force of human resilience and personal grace.